Permaculture Design & Agroforestry Course ~ February 2-12 2024 Family Friendly - PUERTO RICO
 

Presented by The Central Rocky Mountain Permaculture Institute & Caribbean Agroforestry Institute 

 

SIGN UP NOW - CLICK HERE
Learn to design a sustainable lifestyle + eat healthy + immerse yourself with hands-on experience in a tropical jungle, edible garden, medicinal healing herb gardens and young tropical food forest.  Multiple local Puerto Rican farmers will be joining our team of Permaculture Instructors with experience from around the world in many different ecological zones.  *** Scholarships available for Puerto Rican locals.  Please email stephanie@biodynamicbotanicals.com for more information.  English is the primary language we will teach in, but translation will be available for much of the course as many of our instructors are bi-lingual.  
Instructors include... Stephanie Syson, Jerome Osentowski, Maria Benedetti, Adri'an Feilder, Kareen Erbe, David Perez, Able Rios and more!!

Aprenda a diseñar un estilo de vida sostenible + coma saludablemente + sumérjase en una experiencia práctica en una jungla tropical, un jardín comestible, jardines de hierbas medicinales curativas y un bosque joven de alimentos tropicales. Varios agricultores puertorriqueños locales se unirán a nuestro equipo de instructores de permacultura con experiencia de todo el mundo en muchas zonas ecológicas diferentes. *** Becas disponibles para lugareños puertorriqueños. Envíe un correo electrónico a stephanie@biodynamicbotanicals.com para obtener más información.  El inglés es el idioma principal en el que enseñaremos, pero habrá traducción disponible durante gran parte del curso, ya que muchos de nuestros instructores son bilingües.
Permaculture Design & Agroforestry Course
Join the worldwide network of ecological farmers, permaculture designers, educators, entrepreneurs and activists who are creating a new environmental and social vision for the world. 
All that is just the beginning…
The Fundamentals of Ecological Design
This is a conscious, integrated design system based on ecological principles. Providing a framework for creating landscapes that mimic the patterns found in nature, which delivers diversity, stability, and resilience, Permaculture creates an abundance of shelter, water, energy, and food, to address local needs in efficient, cost-effective and productive human environments; while reducing our 'footprints' on Earth.  
Los fundamentos del diseño ecológico
La permacultura es un sistema de diseño integrado y consciente basado en principios ecológicos. Al proporcionar un marco para crear paisajes que imitan los patrones que se encuentran en la naturaleza, que brinda diversidad, estabilidad y resiliencia, la permacultura crea una abundancia de refugio, agua, energía y alimentos para abordar las necesidades locales de manera eficiente, rentable y productiva. ambientes; mientras reducimos nuestras 'huellas' en la Tierra.
COURSE DESCRIPTION
Learn many ecological agriculture practices and earn your Permaculture Design Certificate at the same time!
Central Rocky Mountain Permaculture Institute ( CRMPI ) & Caribbean Agroforestry Institute  offers the international standard curriculum of 72-hour permaculture certificate course. With the completion of the course, CRMPI will issue a Permaculture Design Certificate.
The course covers the fundamentals of ecological design with a particular emphasis on perennial woody polyculture food systems or food forests. This course goes beyond the theoretical and focuses on real-world situations in this young tropical food forest.  Strong emphasis on hands-on application and practical skills, offering the experience of learning in an immersive setting from systems with which students have daily interactions. The methods and techniques will transfer directly to any climate.  
This course will have a strong emphasis on medicinal herbs cultivation and use. 
The accommodation is BYO tenting, the food is from our farm and other local organic farmers. While the information serves as a general education in permaculture, this course offers an in-depth examination of the function of the homestead and farm and is designed to inform students who will gain the skills and design thinking to implement and manage a system. This is a very hands-on course. Mornings are usually devoted to practical applications and afternoons are dedicated to course lectures. 
We will talk about the principles and practices of creating lush, sustainable living systems in climates and bioregions ranging from coastal to arid. We talk about how you can apply these principles in designing and building your garden and home, creating and using renewable energy systems, and co-creating social and economic systems that are healthy for both the planet and its human and nonhuman beings. Additionally we look at ways in which you can create a sustainable livelihood based on these principles.
You will be learning the essential concepts and practices of permaculture from a world renowned team of master teachers who imbue their work with rich depths of life wisdom.
You will be gaining the concepts and tools to design and engineer sustainable systems; Forest gardens, renewable energy systems, water conservation systems,  natural building techniques, and other eco-technologies.
And you will be putting your learning to use... hands-on!
You will not only be learning the theories…you will be learning the skills needed to implement them…and seeing the fertility and abundance.
When you participate in this year's Permaculture Design Certification program – CRMPI's 39th annual PDC! – you gain the tools, the hands-on experience, and the long-range vision to make that potential a reality. Whether you're doing it here in our vigorous and healthy poly-culture systems on the tropical island of Puerto Rico, or at 7200′ elevation in the Rocky Mountains, or the Midwestern plains, the coastal flats, or in desert environments... this course will help you in your goals to lead a more sustainable and self sufficient life.
Principles and ethics of permaculture design
Site analysis and design, from the tropics to temperate regions
Landscape master planning and microclimate design
Reading the landscape and pattern recognition
Design for climate change
Regenerative land management and stewardship
Water catchment, storage, filtration, and distribution
Using greywater in the landscape
Natural building techniques 
Plant propagation and grafting
Organic horticulture, Syntropic Farming, Biodynamic Farming
Medicinal plant propagation, usage, and preparations
Biointensive gardening and seed saving
Soil rehabilitation and fertility approaches
Orchard design and maintenance
Renewable energies
Local and regenerative economics
Urban and suburban farming tactics
Ecovillage design and community building procedures
PRACTICAL PERMACULTURE SKILLS
Mornings are dedicated to the hands-on application of useful skills.
Blade & knife sharpening.
Land clearing with scythe or machete.
Plant identification.
Food forest fundamentals.
Clearing and planting new disturbance in agroforestry systems.
Techniques in small-scale vegetable gardening.
Tree planting fundamentals, support species, and broad-scale fertility management.
Plant propagation fundamentals, including propagation and planting of seeds, rhizomes, cuttings as well as various forms of grafting.
The construction of thermal compost and its use in hot water heating.
Nursery management including making an in-house potting soil.
Leveling for application of swales, hedgerows, and techniques for preventing erosion. 
Food processing skills including lactoferments of vegetables, natural ginger sodas and herbal beers.
OFF SITE VISITS
Animal Systems at Finca Brutal in Rincon, PR.
Traditional Puerto Rican Farming with Abel del Rios in Quebrada, PR
Interactive jungle tours with Machetero David Perez
Cave Explorations
Waterfall Expeditions
CAMPING ACCOMMODATIONS
This course is offered on our farm, best described as a varied landscape with a mixture of dense forest, shaded open flat areas, and shadeless flat and open spaces.  Located at 1000' (300m) altitude, we are about 15 minutes from the ocean.  It is moderately humid; During most days there is adequate sun to dry clothes and camping gear, but during the nights it is often humid everywhere and things get wet.  A sleeping bag is nice as the humidity can make the nights and early mornings feel cold.  There are few mosquitos due to the abundance of the Karst rock formations allowing large cave systems and bat populations, however a bug screen is suggested.  It can be sunny or rainy for days, so prepare to create for yourself a comfortable sleeping setup which can allow restful nights to invite the best experience for learning and exploring this amazing landscape.
We will provide a comfortable space for you as best as we can, including:
   Outdoor showers: Supplied with fresh spring water.
Composting Toilets: Thank you for your donation.
Flat spaces for you to setup your own Tent
Adequate trees for you to set up
your own Hammock
Anything with a bug screen and large rain fly will work well.
INSTRUCTOR BIOS
JEROME OSENTOWSKI
Jerome Osentowski
Founder and Director of the Central Rocky Mountain Permaculture Institute in Basalt Colorado.  A forager and permaculturist with roots in rural Nebraska, Jerome lives in a passive solar home he built at 7200 feet above Colorado's Roaring Fork Valley. A permaculture designer for thirty years, he has built five greenhouses for himself and scores of others for private clients and public schools in the Rockies and beyond. He makes his living from an intensively cultivated one acre of indoor and outdoor forest garden and plant nursery, which he uses as a backdrop for intensive permaculture and greenhouse design courses.
Among his accomplishments is hosting the longest-running Permaculture Design Course in the world, now at thirty four years running. Jerome has also been instrumental in identifying, conserving, and propagating heritage fruit trees that have survived and borne crops for over a century in the harsh environment of the Roaring Fork Valley. Jerome's explorations of sustainable systems and his travels for development projects have taken him to Baja, Nicaragua, Patagonia, Finland, Australia, and the Caribbean.
STEPHANIE SYSON
Stephanie Syson
spends the days with her hands in the soil and her heart with the plants.  She started down her Permaculture path in 2001 with an internship at Punta Mona in Costa Rica.  After visiting and living at multiple Permaculture communities in Latin America she was hooked!  Stephanie lived within and managed the Central Rocky Mountain Permaculture Institute for 4 years.  In that time she started the Basalt Seed Library and the Basalt Community Food Park as well as opening an herbal Product line called Dynamic Roots.  After many years of farming and running her herbal product business, she decided to devote herself fully to farming medicinal herbs.  Stephanie partnered with Sustainable Settings Ranch in Carbondale Colorado and opened Biodynamic Botanicals in 2015.  She is a full-time farmer and cultivates 3 acres of medicinal herbs which can be found at apothecaries across Colorado as well as multiple high-end product lines.  She has recently started this12 acre farm in Puerto Rico that combines her love of medicinal herbs, agroforestry, subsistence farming,  tropical climates and ocean life with teaching and rural, large scale Permaculture Design. Stephanie is a Certified Permaculture Designer, an educator in the fields of  Greenhouse Management, Seed Saving, Food Forests, Biodynamics, Herbalism and more. She has presented at conferences such as the Boulder Bioneers, the North American Permaculture Convergence, the American Herbalists Guild and the Biodynamic Association. She works with groups of all ages to further their knowledge of these topics through regular public workshops such as CRMPI, Colorado Mountain College, The Grow Network, and the Denver Permaculture Guild  as well as co-hosting the Living Permaculture Show, a monthly radio show on public radio KDNK. Stephanie is committed to community service through education and demonstration of herbal self-care and sustainable farming practices.
Guest Instructors Include but not limited to....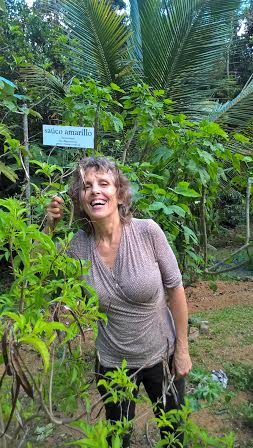 Maria Benedetti
María Benedetti is an ethnobotanical researcher and educator raised in New York City.  A student of anthropology, linguistics, literature and the art of writing, she has worked as an educational journalist (culture, ecology, environment, botanical medicine) since the 1980s.  Her maternal family left their native city of Mayagüez during the 1920s in order to start anew in Manhattan. 
Deeply identified with Puerto Rican music, food and family celebrations, María studied Spanish in New York and Sevilla.  She also studied Puerto Rican literature, history, culture and folklore at Hunter College.  She combined these interests with her love for nature, cultivated by her father's Hungarian/Irish family.  After ten years of ethnobotanical studies in New York with Susun S. Weed, "Wildman" Steve Brill and with Hudsonia – an environmental education NGO associated with Bard College – she travelled to Puerto Rico for the first time in 1987, eager to learn about and write about the Puerto Rican tradition of botanical medicine.  This experience is documented in her first book, Earth and Spirit: Medicinal plants, remedies and spiritual healing from Puerto Rico (¡Hasta los baños te curan!)
  
ABEL DEL RIOS 
Abel is hard to keep up with whether descending into an underground cave or following his humor.  How old would you be if you didn't know how old you were? This 85 year old Boricua would say mid-30s.  A generational Puerto Rican, collector of strange plants, distiller of spirits, and man of the forests, the wisdom and warmth Abel provides is unforgettable. 

DAVID PEREZ 
To call David, all you need to do is cup your hands around your mouth and yell 'Daaaavvveeeeeeeed!'  A true Machetero of the land, David has extensive experience with natural building utilizing native hardwoods. A multi generational Puerto Rican thriving throughout the cuevas (caves) and forests around the teaching site for over 50 years. A trip behind David with his Machete through Permaculture Zone 5 forests reveals an emotionally moving learning experience, leaving you breathless and imprinted for a lifetime.
 
MICHAEL JUDD

ADRIÁN FIELDER, PH.D.
Assistant Dean of Instruction, Colorado Mountain College 
As a scholar and practitioner, Adrián's work addresses two related inquiries at the nexus of philosophy, culture and sustainability: 

 

1) how the modern history of Western thought catalyzed the emergence of imperialism and its radical disruptions/exploitations/enslavements of people, stories, ideas, matter and energy (i.e. the "Anthropocene"); and 2) how culture bears witness to that revolution, and most importantly, how it gives us tools to recreate regenerative relationships with each other and with Pacha Mama. During his decade as a button-down academic, he published widely on his fieldwork with Sustainable Development projects in a variety of places urban and rural, including France, India, Morocco, Senegal, Mexico and multiple regions of the U.S. Leaving behind the scholarly life, for ten years he directed an outreach literacy program to thousands of families from every point on the socio-economic spectrum, from every ethnic/cultural background and from every kind of neighborhood in the greater Chicago, Detroit and New York City areas. He then returned to higher education in 2009 to help Colorado Mountain College (CMC) launch its first bachelor program, a B.A. in Sustainability Studies that has since graduated dozens of highly motivated systems thinkers who now fill a variety of niches in their communities' ongoing Transitions to post-carbon economies. After three decades of repeatedly getting his mind blown wide open by studying and working at Permaculture and Agroecology Restoration sites on five continents, he finally got his Permaculture Design Certificate with Geoff Lawton in 2017 and has been teaching PDC courses at CMC ever since. An avid aficionado of story and cuisine, he learns at least one local dish and one folk tale in every place he visits.
EDUCATION
Ph.D. in Comparative Literacy/Cultural Studies, Northwestern University, 2002
Fulbright Fellow, Morocco, 1999-2000
Expert Certification, Global Environmental Education, Cornell University, 2016
National Certification in Community Organizing, Southwest Industrial Areas Foundation, 2015
Wildcrafting Certification, Roaring Foragers, 2015
M.A. in Francophone Postcolonial Studies, University of Utah, 1997
B.A. in Comparative Area Studies, Duke University, 1995
Chris and Celeste began one of the only and finest organic meat farms in Puerto Rico.  Hogs, cows, chickens and more!